Trying to select the right bow for your archery needs can be a challenge. With so many brands on the market, it's hard to know where to start. Bear Archery bows are some of the most well-known in the community of archery, but are they any good?
Based on average annual revenue, Bear Archery is one of the Top 5 bow manufacturers in the U.S. Knowing what to look for based on your personal preferences can help you determine if Bear Archery bows are the right fit for you.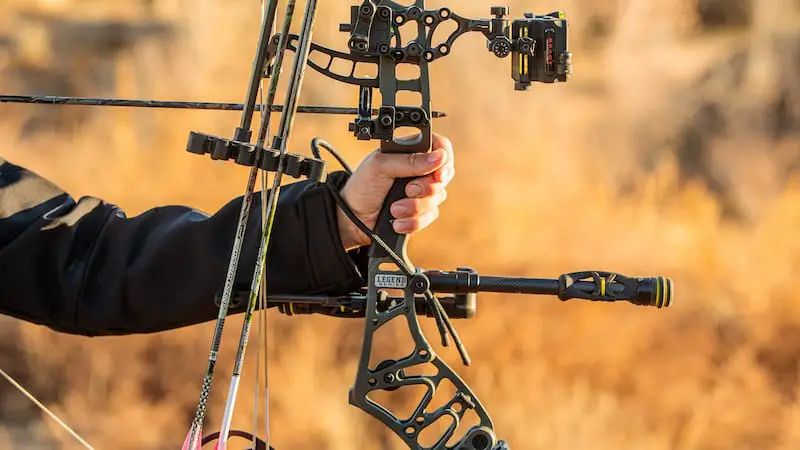 The Design of a Bear Archery Bow
The different factors in the design of a bow are crucial considerations when selecting the correct fit for the best performance.
Axle to Axle Length 
Draw Length
Draw Weight
What is the Average Axle to Axle Length of a Bear Archery Bow?
The length of a bow can affect maneuverability and manageability. Short bows, though light and easy to manage, can be a harder shot. Longer bows are easier to shoot, but may be cumbersome and affect your ability to maneuver about freely.
The key is to avoid extremes in length, whether long or short. The majority of Bear Archery bows sold now are in the sweet spot of bow lengths, between 30 and 33 inches. There are a few shorter bows available for those confident archers with stellar accuracy.
What is the Average Draw Length of a Bear Archery Bow?
The length of the draw of a bow directly affects the power stroke, which determines the speed of your arrow. Added length can make your arrow faster, but too much length can negatively impact your shot accuracy.
Being properly measured enables you to select a bow that caters to your particular draw length. Bear Archery bows have a range of draw lengths for each of their compound bows, which would allow an archer to customize to suit their measurements.
Read about if draw length matters for recurve bows
What is the Appropriate Draw Weight of a Bear Archery Bow?
The draw weight lets you know the strength (measured in lbs.) it takes to pull the bow back to shoot it. If it is too difficult to pull back the bow your shot will be negatively impacted.
Bear Archery bows draw weights ranging from 5 lbs. to 70 lbs. Most bows have at least two options in ranges suitable for most body types.
There are suggested draw weights based on your size to help you determine your correct fit.
| | |
| --- | --- |
| Body Type/Weight | Suggested Draw Weight  |
| Child (40-100 lbs.) | 10-20 lbs. |
| Young Adult (100-140 lbs) | 30-40 lbs. |
| Adult (120-160 lbs) | 35-50 lbs. |
| Larger-framed Adult (160-190+) | 55-70 lbs. |
The Quality of Bear Archery Bows
The last thing you want is to feel like the investment you made in your bow does not match the quality of the product. While some will argue that the larger the price tag the higher the quality, others would say that price is only one factor and likely not even the main one in the quality of a bow.
Some things to consider when assessing the quality is technology and durability. The technology of a bow will determine how well it performs, while the durability will tell you how long it will last. Then you will be able to determine if it's worth the price tag.
New Archery Bow Technology
Bear Archery bows boast a hefty list of ground-breaking technologies for better performance.
New Vibration Reduction System™
React Technology
Eko™ Cam Technology
Align Lok™ Technology
For a full list and the breakdown of each technology, visit Bear Archery Technology
Durability and Lifespan of Modern Archery Bows
Each type of bow has a different lifespan. Crossbows start at an average of 15 years and go up from there, while compound bows are between 25 and 30 years. This is, of course, dependent on how well an owner cares for the bow and the amount of its use.
Bear Archery bows have an average customer rating of at least 4 out of 5 stars across a variety of retailers. The company has been one of the top brands in archery since its inception in 1933.
How Much Do Bear Archery Bows Cost?
Bear archery bows come in a range of styles and with varying capabilities. Thus, their prices are also on a varying scale.
Bear Archery bows range in price from $24.99 to $1099.99. The lower end in price allows for beginners to dip their toes into the archery waters without making an expensive commitment or archers on a budget to maintain their hobby comfortably.
The higher-end allows those with a little more wiggle room in their budget to indulge. In comparison to other brands on the market like Bowtech, whose cheapest model comes with the price tag of $599, while most of their bows are around $1,000.
The Variety of Bear Archery Bows
Whatever hobby you are undertaking, it is crucial to have the right tool. Additionally, you want that tool to reflect who you are, as it is an extension of yourself. Most bow manufacturers focus primarily on compound bows to cater to the contemporary bow hunter with only a very few recurve options for traditional customers who do indoor or field archery.
Bear Archery has stayed faithful to its roots in making the recurve bow a central product, along with other options you don't often see, like longbows and a catalog of bows for kids almost as extensive as they have for adults.
If you want your bow to stand out from the crowd and bear the mark of your own unique personality, Bear Archery does offer a variety of colour and pattern choices on almost every model to customize your bow.
What is the difference between a compound bow and a recurve bow?
New Innovation In the Archery Industry
The nature of humanity is ever-evolving. Things that are static rarely stand the test of time. In order to stay relevant, a company must innovate, especially with products, to keep up with the next version or model. These innovations benefit the customer, increasing accessibility, performance and value.
While Bear Archery isn't the only bow manufacturer that can boast innovation, they do have the takedown recurve bow design on their side. It was Fred Bear who had the idea, back in 1969, to make the limbs of the recurve bow removable, making it easier to maintain and transport this traditional bow.
You may have to look elsewhere if you are looking for innovation specifically in compound bows. Though Bear Archery has received attention for their compound bows, appearing in top compound bow rankings, it's usually toward the bottom of the list.
New Accessories for Bear Archery Bows
Once you get acquainted with your bow, you may want to deck it out with all the trappings of an elevated bow. When that time comes you want to have options. You don't want to be limited to a few items like grips and dampeners.
Bear Archery has a variety of accessories from target stands to shooting gloves, from scopes to cranks, making it your one-stop shop for all your archery needs.
Average Bear Archery Bow Warranties
One of the biggest satisfactions in purchasing merchandise is peace of mind. Knowing that if something should happen that is out of your control you are protected from loss, loss of product and loss of finances. One of the marks of a good product is whether a company or manufacturer is willing to stand behind their product with a warranty.
The purpose of a business is to turn a profit, which is harder to accomplish if you're constantly giving away free products because the original merchandise malfunctioned.
While a great deal of bow manufacturers offer some kind of warranty, the type of warranty varies. For example, Hoyt Archery's warranty primarily covers defects in workmanship and/or materials used and lasts as long as you own your bow. However, it's the limitations that you want to look out for, like Hoyt and Bowtech only offering a warranty on bows bought from certified dealers. This means bows bought over the internet are not covered.
Bear Archery has a few different warranties depending on the product purchased.
Traditional Bow: 1-Year Limited Warranty
Youth Bow: 90 Day Limited Warranty
Compound Bows and Crossbows: Lifetime Limited Warranty
Bear Archery has been around for roughly 88 years, still delivering product and customer experience that consistently lands them on top bow rankings through the years.
Final Thoughts
Bear Archery has quite a bit to their credit including value, variety and customer experience. They are also worthy competitors when it comes to innovation and design. If you are looking for a traditional bow, a bow for a child or beginner then Bear Archery would be the obvious choice, especially when it comes to price.
As for compound bows, especially for more experienced bow hunters, there are other companies that have received more accolades for their models. However, those company price points are going to be higher.
Sources
https://www.bowhunting.com/bowhunt101/axle-to-axle-length-shorter-or-longer-which-is-the-best/
https://www.thomasnet.com/articles/top-suppliers/bow-manufacturers-and-suppliers/
Was this article helpful?