Electric carts have become increasingly popular among hunters due to their convenience and efficiency. Electric carts are a more efficient and eco-friendly alternative to traditional gas-powered carts. They offer several advantages over their counterparts, including quiet operation, low maintenance costs, and emission-free transportation. Additionally, electric carts typically have superior torque capabilities compared to gas-powered models.
In this article, we'll explore the benefits of electric carts for hunting and review some of the best options on the market today. Whether you're a beginner or an experienced hunter looking to upgrade your gear, this guide will help you make an informed decision when choosing the right electric cart for your needs.
Before making a purchase, consider factors like the terrain in which you will be using the cart (such as steep hills or muddy conditions), range requirements for your hunting trips, whether you need 4×4 capabilities, and much much more.
Factors to consider when choosing electric carts for hunting
Selecting the right electric cart for hunting can make your hunting trips more enjoyable, efficient, and safe. Here are some expanded factors to consider when choosing the perfect electric cart for your hunting expeditions.
Terrain type
Battery range
Power and Speed
Durability
Carrying options
Camouflage options
Maneuverability
Maintenance and Repair
Cost
Accessories
Weight and portability
Safety features
Noise level
Environmental impact
Terrain type
Understanding the type of terrain you'll encounter while hunting is essential when selecting an electric cart. Rough or muddy terrain may require a 4×4 model with enhanced suspension and off-road capabilities. Consider ground clearance and the cart's ability to handle steep inclines and declines, as well as any water crossings you may encounter. The right electric cart should be able to confidently navigate your hunting area's specific terrain.
Battery range
Battery life and charging options are critical factors when selecting an electric cart for hunting. A longer-lasting battery ensures that you can cover more distance during your hunting trip without worrying about running out of power. Investigate the cart's charging options, such as solar chargers, which can be advantageous during extended trips. Also, remember that rough terrain, heavy loads, and utilizing 4-wheel drive can decrease battery life, so plan accordingly.
Power and speed
Adequate power is necessary for an electric cart to carry all of your hunting gear and traverse difficult terrain. A top speed of at least 25 mph is desirable, but also consider the cart's torque and ability to maintain speed while hauling heavy loads or climbing steep inclines. This ensures that your cart can keep up with the demands of your hunting adventure.
Durability
Hunting often exposes your equipment to harsh conditions and rough treatment. Select an electric cart with a robust frame, high-quality materials, and a durable suspension system to withstand the rigors of hunting. A well-built cart will last longer, providing better value for your investment.
Carrying capacity
In addition to the weight capacity, consider the cart's storage options for your hunting gear, equipment, and any game you may harvest. Ample storage space and well-designed compartments can help keep your gear organized, secure, and easily accessible during your hunt.
Camouflage design
Camouflage can play a significant role in the success of your hunting trip. Choose an electric cart with a camouflage pattern that matches your hunting area, making it easier to blend into the surroundings and reduce the chance of alerting wildlife.
Maneuverability
Maneuverability is essential when navigating tight spaces or making quick turns during your hunting trip. Examine the turning radius and steering responsiveness of the electric cart to ensure it can easily maneuver through your hunting area.
Comfort
Comfort is a key consideration during long hunting trips. Opt for an electric cart with features such as adjustable seating, ergonomic design, and padded seats. Additionally, a quality suspension system and shock absorbers can provide a smoother ride, reducing fatigue during your trip.
Maintenance and Repair
Regular maintenance and occasional repairs are inevitable for any electric cart. Choose a model with easy access to replacement parts and a user-friendly maintenance schedule. Check if the manufacturer provides comprehensive documentation and customer support to help with maintenance and repair needs.
Cost
Budget is an important consideration when choosing an electric cart. Assess the cart's upfront cost and weigh it against ongoing expenses such as battery replacement, maintenance, and repairs. Determine the overall value the cart provides based on its features, durability, and performance.
Accessories
Many electric carts offer useful accessories such as gun racks, storage compartments, winches, and GPS systems. Determine which accessories are essential for your hunting trips and choose a model that either includes these features or can be easily customized to accommodate them.
Weight and portability
If you plan to transport your electric cart to various hunting locations, its weight and portability are crucial factors to consider. Look for models that can be easily disassembled, folded down, or loaded onto a trailer for transport. Lightweight designs and carts with removable components can make transportation more manageable and convenient.
Safety features
Safety should be a priority when choosing an electric cart for hunting. Opt for a model with safety features such as headlights for improved visibility, seat belts for secure seating, roll cages for added protection, and responsive braking systems. Additionally, consider carts with built-in safety mechanisms that prevent unintentional acceleration or movement.
Noise level
One often overlooked factor when selecting an electric cart for hunting is the noise level it produces. A quiet electric cart can help you move through your hunting area without disturbing wildlife. Look for models with low-noise motors and components that minimize vibrations and rattling during operation.
Environmental impact
As a hunter, you likely care about the environment and the sustainability of your hunting practices. Electric carts are more eco-friendly than traditional gas-powered vehicles, but some models are more efficient than others. Consider carts with energy-efficient motors and battery systems that minimize the cart's environmental impact.
4 top electric carts for hunting
When it comes to hunting, having the right equipment is crucial. Electric carts have become a popular choice for hunters who want a quiet and eco-friendly way to transport gear, game, and themselves through rugged terrain.
Here are some top electric carts for hunting that meet these criteria:
Polaris Ranger XP Kinetic
Daymak Dune Buggy 3000
Rindev Unity
Volcon Stag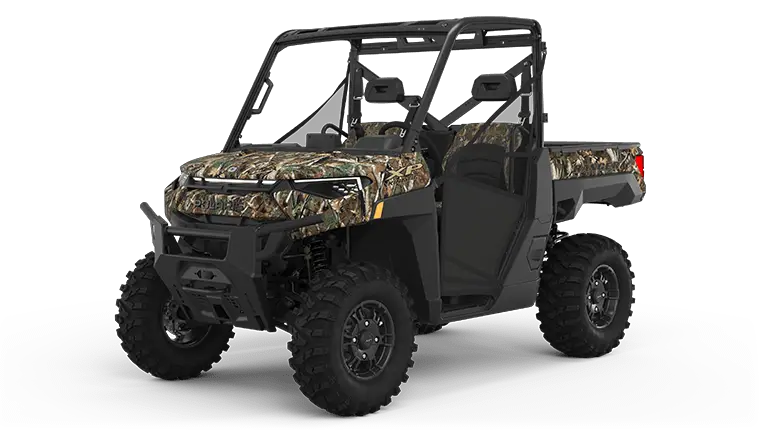 Polaris Ranger XP Kinetic
Introducing the Polaris Ranger XP Kinetic, a fully electric powerhouse and the epitome of a "Utility Task Vehicle." First revealed in late 2021, this eco-friendly UTV demands 70% less maintenance compared to its petrol-driven counterparts.
Developed in partnership with Zero Motorcycles, the Ranger XP Kinetic is equipped with an internal PMAC motor, delivering a remarkable 110 HP and 140 ft-lbs of torque. With this impressive power, it boasts a 2,500-lb towing capacity and a class-leading 1,250-lb payload rating.
The Ranger XP Kinetic comes standard with 29-inch, eight-ply Pro Armor X-Terrain tires, a full-body skid plate, 10 inches of suspension travel, and 14 inches of ground clearance, complemented by steel push bumpers.
Specifications:
Weight: 1,730 lbs
Power: 110 HP & 140 ft-lbs
Range: 45 miles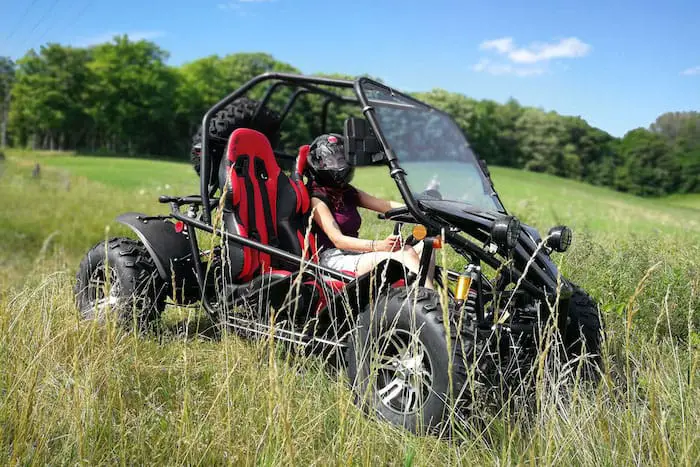 Daymak Dune Buggy 3000
Introducing a contemporary, minimalist hunting EV vehicle, the Daymak Dune Buggy 3000 offers a stripped-down off-road electric experience. Boasting only the essentials—an open frame, suspension, wheels, and a pair of seats—this lightweight off-road EV tips the scales at a mere 550 lbs.
The Dune Buggy 3000 delivers a respectable top speed of 25 mph, a travel range of approximately 25 miles, and the capability to tackle inclines up to 30 degrees. Powered by a 3,000-watt motor and a 60-V 50-Ah lead acid battery, the Daymak Dune Buggy 3000 ensures an exhilarating ride.
Additional features include a multi-functional LED display, three USB charging ports for your devices, adjustable racing bucket seats equipped with multi-point harnesses for safety, LED headlights for enhanced visibility, and a suspension system comprised of dual 13-inch front and dual 19-inch rear coil gas shocks.
Specifications:
Weight: 550 lbs
Power: 4 HP
Range: 25 miles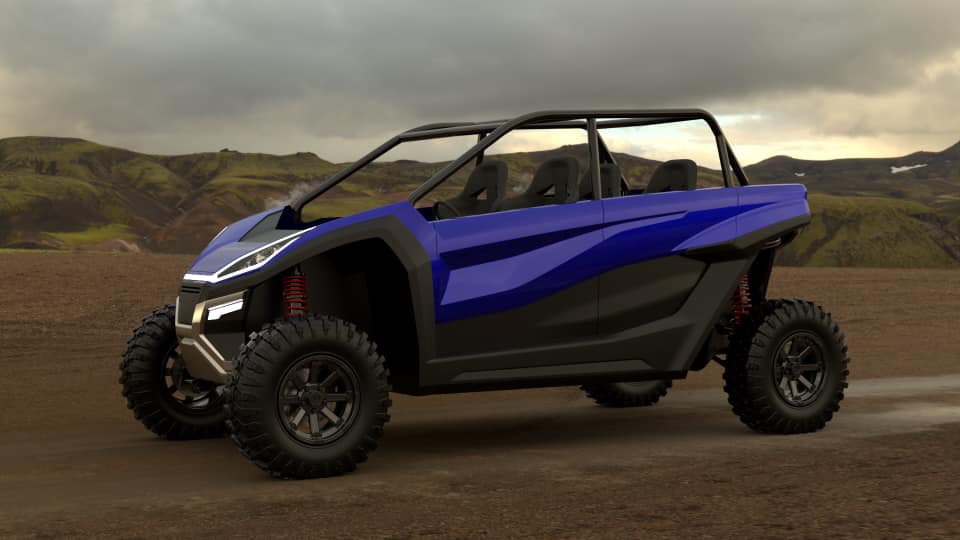 Rindev Unity
The Rindev Unity showcases the immense potential of electric vehicle technology in the off-road Powersports industry. This cutting-edge, battery-powered side-by-side boasts a high-performance powertrain, delivering an astounding 507 HP and a staggering 1,037 ft-lbs of instantaneous torque, all channeled through an advanced all-wheel-drive system. Remarkably, the Unity SxS offers a range of up to 350 miles on a single charge and supports Level 1, 2, and 3 charging for its battery pack.
Designed to endure the harshest conditions, this off-road powerhouse features a 62-inch track, IP69K-rated construction, a sealed cabin equipped with a climate control system and a 120-volt onboard outlet, a 3,000-lb towing capacity, LED lighting, an integrated skid plate, and 32-inch tires. With a top speed surpassing 70 mph, the Rindev Unity also comes with race-grade shocks providing 21 inches of suspension travel at both front and rear.
Enhancing its reliability, a built-in self-diagnostic AI system promptly alerts the driver in case of component failure or malfunction.
Specifications:
Weight: –
Power: 507 HP
Range: Up to 350 miles
Speed: 70+ mph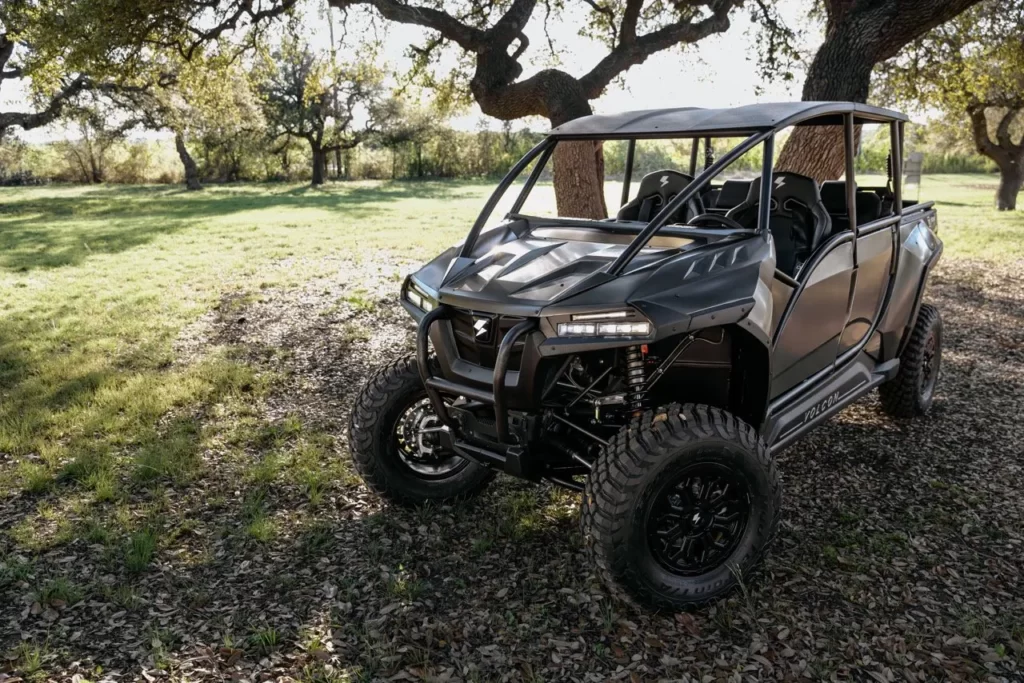 Volcon Stag
The Volcon Stag is revolutionizing the off-road experience, crafted by enthusiasts for enthusiasts with cutting-edge technology and a focus on performance.
As a trailblazer in the EV Powersports arena, Volcon ePowersports exclusively designs innovative off-road vehicles that stand in a league of their own. The Stag harnesses the latest electric vehicle technology, providing the exhilarating performance of a conventional UTV without the noise or emissions, letting you immerse yourself in nature.
With the Stag, drivers can explore the outdoors in a unique way that traditional gas-powered UTVs cannot match, benefiting from key GM® propulsion components that have been proven and tested in automotive applications.
Designed and developed entirely by Volcon's team in Round Rock, Texas, the Stag showcases the brand's rapid rise as a leader in EV Powersports, offering a range of high-tech and highly capable electric off-roaders. The Stag is a performance-focused side-by-side that delivers excitement while maintaining its utility as a genuine workhorse. Equipped with a 107-kW motor, the Volcon Stag boasts class-leading power figures of up to 140 HP and 265 ft-lbs of torque, translating to an 80 mph top speed, a 1,550-lb payload capacity, and a 2,000-lb towing capacity. Drawing on General Motors EV components, the vehicle is powered by a 42-kWh battery that ensures a range of over 100 miles and a recharge time of merely six hours.
Additional highlights include multiple drive modes featuring on-demand four-wheel drive, seating for four, 26.7 cubic feet of bed space, a 64-inch track, and a fully connected, technology-rich cockpit complete with two TFT displays, dual onboard action cameras, and compatibility with the Volcon smartphone app.
Specifications:
Weight: –
Power: 140 HP
Range: 100+ miles
Top speed: 80 mph
Capacity: 4 people
Benefits of using electric carts for hunting
Low noise level
No emissions
Reduced environmental impact
Electric carts for hunting offer numerous benefits over gas-powered alternatives. Their quiet operation ensures that game is not scared away, giving hunters a higher chance of success. Additionally, electric carts have reduced environmental impact compared to their 4×4 counterparts, making them a more eco-friendly option.
Another advantage of using electric carts for hunting is increased mobility in rough terrain or difficult areas where traditional vehicles may struggle to navigate. With their smaller size and agile maneuverability, electric carts provide hunters with greater access to remote locations and can handle various terrains with ease.
What terrain can electric carts handle?
Electric carts are versatile and can handle terrain like wetlands, hills, rocky ground and snow-covered landscapes. Most electric carts come equipped with 4×4 capabilities for added traction on challenging surfaces. However, it's important to note that sandy beaches or deserts may not be suitable for all the electric carts.
Muddy trails or dense forest undergrowth also pose little challenge to most electric carts due to their lightweight construction and durable tires. They're ideal for hunting trips where you need to transport gear across tricky terrain while minimizing your impact on the environment.
What range does electric carts have?
Electric carts for hunting have an average distance on a single charge of around 20-25 miles, depending on the model and terrain. Most models can attain a maximum speed of up to 25 mph, making them perfect for navigating through dense forest or rough terrain.
If you need an electric cart for hunting in rough terrains like hills, forests and muddy areas, then choosing a model with 4×4 capabilities is recommended. However, keep in mind that this may affect the overall range as well as the price point of the electric cart. Overall, electric carts provide hunters with reliable transportation options that are environmentally friendly and cost-effective when compared to traditional gas-powered vehicles.
Maintenance of electric carts for hunting
Maintaining your electric cart for hunting is crucial to ensure its longevity and optimal performance. Regularly inspect the 4×4 vehicle for any damage or wear and tear, including the tires, brakes, suspension system, battery connections, and electrical components. It's also important to keep it clean and free of debris that can cause damage or interfere with its operation in rough terrain.
Can you use a golf cart for hunting?
While golf carts may seem like a convenient option for hunting, they may not be suitable for rough terrain or heavy loads. Golf carts typically have lower weight and range capacities than electric carts designed specifically for hunting. Additionally, golf carts may not have the necessary 4×4 capabilities needed for off-road hunting. It's important to choose an electric cart that is specifically designed for hunting to ensure your safety and the safety of your fellow hunters.
Bear in mind that e.g. the wheels are rather small, wide and smooth, because they are made for not damaging the golf course. Therefor not made for muddy or rough terrain.
Are electric carts for hunting easy to transport?
One of the most important considerations of any hunting equipment is its portability. You need to be able to transport your gear without hassle, and electric carts are no exception. So, are electric carts for hunting easy to transport?
The answer to this question is not a simple yes or no. The portability of an electric cart depends on several factors, including its weight, size, and design. Some electric carts are designed specifically for hunting and are lightweight and compact, making them easy to transport. Others are larger and heavier and require a truck or trailer to transport them.
When considering the portability of an electric cart, it is important to pay attention to its weight. Most electric carts weigh between 200 and 500 pounds, which makes them heavy and difficult to move around without assistance. However, some models are designed with lightweight materials, such as aluminum, to make them easier to transport.
Another factor to consider when evaluating the portability of an electric cart for hunting is its size. Some models are designed to be compact and fit easily into the back of a truck, while others are larger and require a trailer to transport them.
What safety features should electric carts for hunting have?
Electric carts for hunting can be an excellent addition to your hunting equipment. Not only can they transport you and your gear to your hunting spot quickly and quietly, but they can also provide a comfortable and safe ride. However, to ensure the safety of hunters and those around them, certain safety features should be present in these vehicles. Here are some essential safety features that electric carts for hunting should have:
Roll-over protection
Electric carts should have a roll-over protection system in place to protect passengers in the event of a rollover accident. This can include features such as a roll cage, seat belts, and side bars or doors.
Effecient Brakes
Proper braking is crucial for any vehicle, and electric carts are no exception. They should have reliable braking systems that can stop the vehicle quickly and effectively. Disc brakes are a popular choice for electric carts as they provide excellent stopping power.
Lights
Hunting often involves early mornings and late evenings, so electric carts should have sufficient lighting for safe operation in low light conditions. This can include headlights, taillights, and turn signals.
Speed control
Electric carts should have speed control mechanisms that limit the vehicle's speed and prevent it from going too fast. This is particularly important when driving on rough or uneven terrain.
What is an electric cart?
An electric cart for hunting is a popular alternative to gas-powered hunting carts. They run on electricity and come with basic features such as 4×4 capabilities, durable tires, and suspension systems for rough terrains. The components of an electric cart include a motor controller, batteries, charger and more.
Electric carts for hunting are a quiet and eco-friendly alternative to gas-powered carts.
Electric carts differ from gas-powered ones in various ways including the absence of noise pollution and emissions. Additionally, electric carts can be charged at home which eliminates the need to refuel every now and then. Using an electric cart for hunting has several benefits such as stealthy movement that doesn't scare away animals during your hunt.
Final Thoughts
When considering an electric cart for hunting, it is crucial to evaluate factors such as its weight, size, and portability. Additionally, the safety features of the vehicle should be carefully assessed to ensure that it meets the necessary standards and requirements. Investing in an electric cart that has roll-over protection, efficient brakes, sufficient lighting, speed control mechanisms, and noise reduction features can help hunters enjoy a comfortable and safe ride. By keeping these factors in mind, hunters can choose an electric cart that best fits their needs and enhances their hunting experience.
Was this article helpful?